Hannah and Rebecca unwind in Spain
At the beginning of February, Rebecca called from the hospital as she waited for test results to see if she was a candidate for a new treatment with immunotherapy. My flight arrived on Monday at 10:15am Into Dublin. Miraculously, the traffic gods shined upon us and I made it to St Vincent's waiting room in time for her 11am meeting with Professor Crown. After hearing the good news, we waited in the hallway for a few minutes for paperwork and an appointment in a week to start Pembro. When Rebecca asked me "do you want to go to Spain?", I thought she was joking. She asked Professor Crown, and seeing how much she needed it for her mental health, he agreed, providing she didn't break any bones. We left Thursday for quick flight to Malaga.
At the beginning of the trip, Becks had requested that I not be her "medical sister", but just her sister. She wanted to pretend that we were two normal girls on a spring holiday, and forget the gravity of what awaited her back home when she returned. On one of our long drives in Spain, she said "what if this is my last trip to Spain?". Not wanting to admit to myself and to her that it might be, I replied "I could get hit by a truck next week and this will be my last trip to Spain". For the most part, we kept everything lighthearted, as she had asked. In Malaga, we picked up a tiny VW Golf and headed into town for Sangria and tapas at Bodega el Pimpi. Becks loved the old town architecture, the live music, and Roman Ruins.
With Becks as my navigator and DJ, we drove east along stunning coastal roads to Motril, and then headed north towards Granada. The Alhambra had always been on my bucket list, and luckily Becks was happy to wander the stunning gardens and orange groves with me. We saw snow-capped mountains on the drive up, and enjoyed watching hundreds of Chinese tourists take similar selfies. The Alhambra is a Moorish palace dating back to the 9th century, and the architecture was stunning, along with serene courtyards and views of the surrounding hills. After 2 hours of walking around, it began to get dark so we drove back down and headed west to our home for the weekend in Marbella. When we arrived, we had a bit of confusion regarding the parking garage, so we had a glimpse of Marbella party-goers while walking to the apartment. Becks found beer in the fridge as I turned on the heaters. On the street below we found a gem of a Pinxtos place (La Taberna del Pinxto), where I was able to chat to a peruvian waiter about the food and our trip. When we finished our meal, the waiter brought us tiny shots of Limoncello, a perfect nightcap to a long day.
The next morning, we woke to the sound of church bells on the quiet streets. To our delight, we could see the ocean from the balcony. I set about finding a supermarket in walking distance to buy some food for breakfast so we could enjoy coffee on the terrace. We then set out heading north to Ronda, up the Sierra de las Nieves mountains, along a winding road that took us up to 2400 feet altitude. Along the way we marveled at the vistas, the other crazy drivers, and a roadside stand selling fresh strawberries. Once we arrived, we went walking through the old town and passed the oldest bullfighting ring in Spain. Becks told me stories of her visit to Seville two years ago with a colleague in Anantara and how much she loved the food and easter processions. We walked around a gorge with a bridge connecting the town, which served as a death sentence for prisoners over the centuries. Walking back to the car was the only time during the whole trip Becks expressed any pain, saying that she had a "stitch" on her right side, where her liver is. We got back in the car and drove into the old town and down the side of the mountain, to where a few other travelers found a perfect picnic spot looking up at the gorge. We ate our picnic - which consisted of chips, sandwiches, beer and strawberries and both took a deep breath enjoying the moment. We made it back to Marbella late in the evening, in time for a coveted meal at a tiny Peruvian Restaurant (Cynthia's) and enjoyed some old films on the couch with a bottle of red wine.
Becks had read that there was a fabulous Saturday market nearby, so after I had explored the old town in Marbella on a long walk, we drove to Puerto Banus. The market had plenty of chinese import scarves, oddly-shaped underwear and wigs, but we found our favorite stall, which was spanish hand painted pottery. I bought lovely small bowls and Becks got a spoon holder to spruce up her apartment in Rathmines. We strolled back down to Puerto Banus and had a drink at a fancy waterside restaurant. Walking around the town, we were amazed by all of the super luxury yachts and cars - Maseratis, Lamborghinis - and spent the rest of the day singing Akon's Belly Dancer while dancing like mad women. Being Irish, there was of course a Rugby match (don't ask which one- I'm the worst for sports), so we watched it among 60 Irish expats at The Claddagh Bar, glass of Heineken in hand. The evening called for a nap, and a peaceful evening stroll to hear the Saturday Vigil bells (Like Jessica, we had to take photos of a church for Mary), and ended up back in our favorite Pinxtos place where the waiter had shots of caramel liqueur waiting for us.


Sunday was the best day of the trip for Becks. She had decided she wanted to go horse riding, and as we all know, Becks knows no boundaries. Crown had told her not to break any bones, and she asked "Why?" He explained that setting a broken bone in a wee hospital in Spain on a cancer patient was definitely not advised...In any case, we set out early and drove southwest past Algeciras and to Tarifa. It was stunning how close Morocco was (only 8 miles away), and how the mediterranean landscape faded into a more lush and verdant scene, reminiscent of the west of Ireland (and just as windy). The woman who runs Aventura Ecuestre in Tarifa was Dutch, but also spoke fluent English and Spanish, of course. The stables were set behind a low-key hotel which was perfect for surfers and beach-goers alike. Becks told me all about her adventure only 6 months before, when she went surfing in Morocco for her 30th birthday. She vowed to return to Tarifa to try her hand at Kite surfing. Our guide struggled to find the tallest horse for Becks, and of course Pablo the horse was as stubborn as she was. We set out of the stables and along the soft sand of the Atlantic. Riding through the trees, we headed under the motorway and up a quiet street into a national park. As we went higher up the side of the hill, we could see Morocco clearly, as well as wild donkeys, rabbits, and watch women set their clothes out on the line in this rural part of Andalucia. We stopped for photos and headed back down, quite pleased that Pablo co-operated, and Becks had not one scrape at the end of the trip. We enjoyed a fresh salad at the hotel adjacent to horse riding, and then walked down to the beach to see Kite-surfing up front. All I could think is how cold they must be!




We wandered around the old town of Tarifa, and headed back to Marbella. Along the way, I was drawn to drive towards Gibraltar, which is visible all the way from Marbella. I thought it would be a cool passport stamp - but alas, Becks had left her passport safely in the apartment. Sunday night was hopping around the old town of Marbella, so after a sunset stroll on the Paseo, we ate Gambas Pil Pil (Becks' favorite from the trip) and churros. Before heading to bed, we bought fruity pastries at a 24 hour bakery and enjoyed them while reminiscing about our day.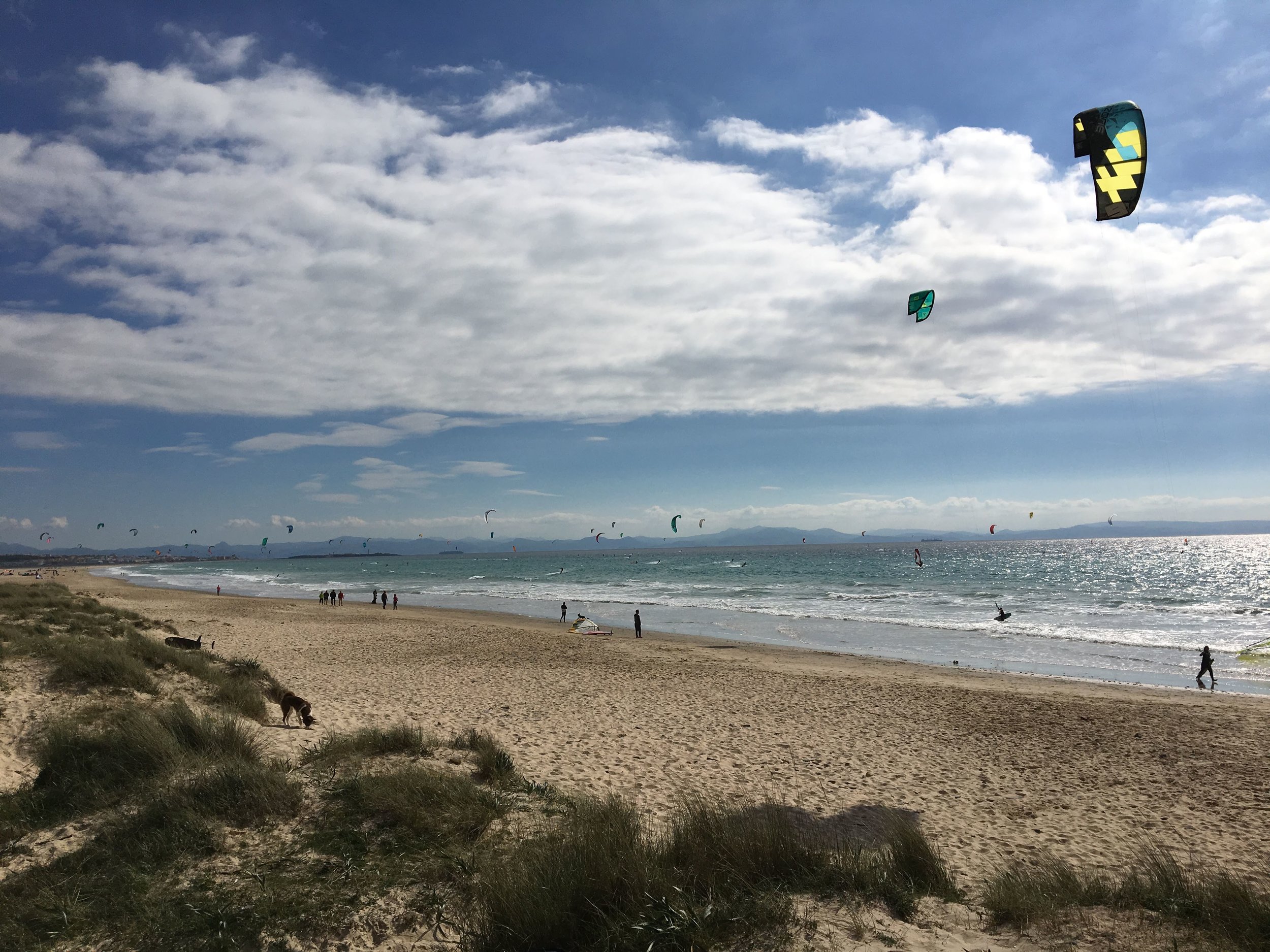 On our last full day of holiday, we returned our rental car and spent the day at Trocadero Playa on Jen Whelan's suggestion. It was exactly what the doctor ordered, and I firmly believe every beach should have such a place. Wide, comfy white couches sat in the sand next to a wooden walkway, next to linen umbrellas and palm trees. The white sangria was irresistible, and we read our books while enjoying sardines, manchego cheese, and jamon iberico. We both napped, sent emails, and did some tipsy online shopping. After six hours basking in the mediterranean sun, we had our fill and sang as we walked home along the beach. We continued dancing in the lift (see the video I made), singing the whole time, and had a super fancy steak dinner on the Paseo. The last stop for the night was at an arcade - Becks and I played a competitive game of air hockey while amusing the bored staff.
Alas, on Tuesday morning our holiday was over. We grudgingly ate the last of the ham and cheese, packed up our souvenirs, and headed back to Malaga for the short flight home. Rebecca was content but somewhat wary on my last night in Ireland, as Wednesday I headed to the airport and she headed to Vincent's for the first Pembro infusion.
Jessica and I - and whomever else would like to join - have decided to return to Tarifa in the future, and learn how to Kite Surf so that Becks can join us in the adventure.